A bit about Me and the ART of Change process….
I am an Artist, Writer and Certified Life Coach living in Adelaide, South Australia with my partner, David Salomon (Sal).
We own and operate a community based training, education and digital media company and are passionately committed to giving a voice and creative opportunities for the people whose stories are not usually heard….
The power of Story has the power to transform.
We recognise that we are living and creating on traditional Aboriginal Land and we acknowledge our respect to the Kaurna people, the Elders and the Ancestors as the traditional owners of the Adelaide Plains. I am profoundly grateful to the Aboriginal Women who have allowed me to share in their stories. Many people outside of Australia are unaware of the history of apartheid and slavery that defined European colonisation a very short period of time ago. The intergenerational impact is still felt across Communities today & I am deeply honored to be invited to participate in Women's healing journeys.
Aboriginal Culture and the traditional custodians of this land practice sophisticated environmental relationships, complex, healthy family systems and the "we" (collective) over the "me me me " values and practices of the western world in ways that all Australians can learn from on all levels.
I am commited to making a contribution to our world becoming a more Peaceful and mature place during these challenging times of change and opportunity.
I have worked in the area of homelessness and Art based personal development for over 20 years and am constantly inspired by the changes that occur when people reconnect with the creativity that flowed so freely in childhood.
***
One of the highlights of my work is that I am able to design black and white Mandala / motivational templates and posters for people to color in as a form of self-reflection, meditation and relaxation.
***
This kind of creativity  process gives people a break from 'thinking' and returns them to the more simple place of "being", through the rhythmic process of coloring, creativity and the restorative power of the open-eyed meditative state. The brain slows down to the relaxed alpha state when it is engaged with Creativity, giving access to the deeper Self, the subconscious mind and the untapped Wisdom within…
As Children we all loved to play, laugh, share, create and expand…regardless of our culture, race or religion. Therefore returning to the place of the unencumbered child, with the wisdom, creativity and vision of the adult offers an infinite number of new approaches to old problems.
You might like to check out "The Magical Child in Exile" – (click here) that I wrote to honour the journey of reclaiming our authentic….'awe'thentic…. creative Self.
As human beings we all share a common need for security and connection, belonging and purpose. It is by recognising and focussing on our commonalities that we are able to contribute to the Global Community, rather than experience the separation and disconneciton that we are seeing so much of today.
The answers are within each and every one of us….
My ProsperArty, Art of C.H.A.N.G.E., Harm to Harmony and Begin Within Art Based Life Coaching programs encourage connection and meaning through the mediums of creativity, music, fun and relaxation based on the Mandorla principle.
The Mandorla is the name of the almond shape that is created when two circles meet.
Within the Mandorla we recognise our commonalities that we all share as Human Beings…and the space in the circles outside of the Mandorla is where we celebrate our differences and learn from one another's stories, culture and beliefs.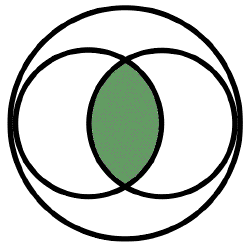 World Peace does not require building bridges between differences…it is a far simpler process of recognising, strengthening and developing our existing connections from within the Mandorla where we are "ALL ONE"……..
The Mandala- A Sanskrit word meaning "Circle" , similar in name and meaning to the Mandorla is another powerful tool for expressing and developing Creativity and Connection…
I drew my Vision statement many years ago and it is as relevant today as it was back then…perhaps even more so during these times of rapid & unexpected changes…
We are all the same within regardless of which of the skins we are in…..
24 Responses to "A bit about Me and the ART of Change process…."